Sbarro Espera Picasso Cup
When someone talks about an MPV (Multi-Person Vehicle) people tend to think, a large spacious vehicle able to accommodate the average family and a weekly shop. Well, throw all that in the bin, and feast your eyes on what Sbarro has been able to produce from a more than average family car, to a 4 seat track machine.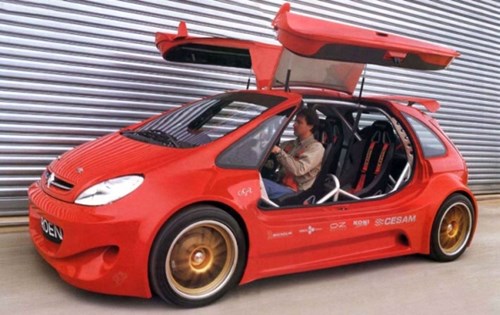 This is a Citroen Picasso, a 5 door compact family car which had two levels of trim and comes in 4 engine variations. The highest of which produced a healthy 110 bhp. The boot is very generous allowing for more than enough space to do a weekly shop or put 2 Labradors. But Sbarro has taken all of this, stripped it out, and started from scratch.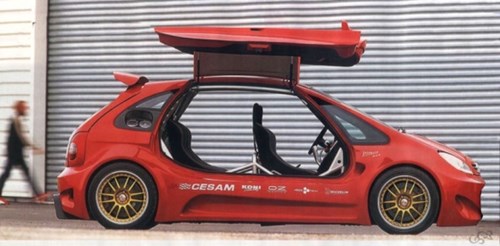 The Picasso has been given a wide arch look to accommodate for the 8.5×19 OZ wheels, which blends in to the very "in-your-face" front end. The rear of the car has also been given a lift, with a smoothed out boot lid, rather large roof spoiler for more down force, bumper diffuser for a more aerodynamic rear which is incorporated into the rather extended rear bumper. If the body work doesn't catch your attention then the two rather large gull-wing doors will. All completely fabricated from new, the rear and front doors on both sides have been fused together and the roof reinforced to help with the extra strain caused from the weight of the doors.
Inside the Picasso has been equipped with dash instruments that are from a Peugeot 306 S16, a full custom roll cage, Cesam competition racing seats (x4) with full racing spec harnesses.  To go along with the seats, the steering wheel has also been replaced by a Cesam Aftermarket wheel.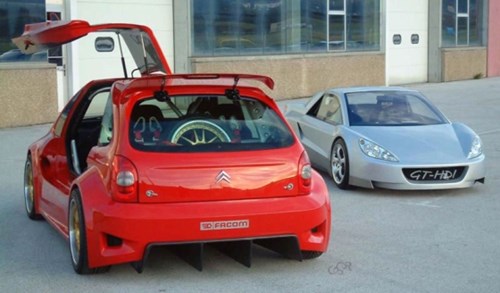 The engine comes from the same car the instruments have come from and that's a 2 litre in-line 306 S16 engine, which is able to produce a healthy 250 BHP at the front-wheels. This is aided by a 6-speed manual gearbox (again from the 306 S16) and has a four disc brake setup, helping 1400kg track machine come to an immediate stop.
Images: http://sbarro.perso.neuf.fr
Tags: 306 S16, Cesam, Citroen, Gull Wings, It's Modified Insurance, OZ Wheels,Peugeot, Picasso