Stance
Any Modifier will know that having a combination of wheels and lows means that your car will sit lower to the ground while looking good doing it. Many people hit issues when attempting to get a good combination, so it is a hit and miss process. However, there are limitations to what people should go to before it becomes ridiculous and also dangerous.  Have a look and see what you shouldn't do.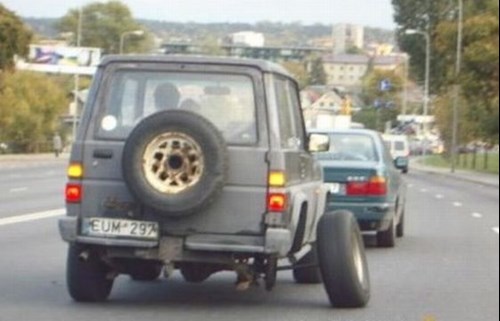 Getting stance on a 4×4 is no easy task as parts for such vehicles aren't readily available or as easy to come across as aftermarket parts for cars are. Therefore a case of custom work needs to be added for most 4×4's to be sitting low. However this owner seems to be trial running a new form of Stance. Having the wheel sitting so far out the arch is likely to cause issues with the authorities too.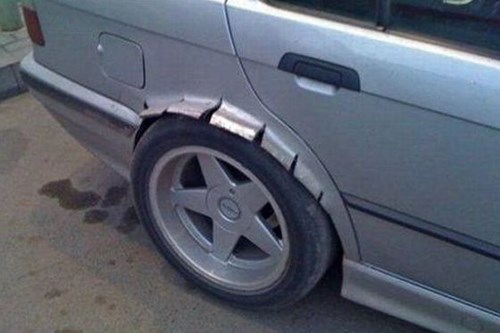 Rolled arches, why? To get a bigger and wider wheel under the wheel arch to give your car either a more aggressive look or for a better handling response from the spread traction. Sometimes though, things don't go as planned when rolling or flaring wheel arches. Paint can crack, the metal can fray or you can get uneven spread from the roller. When issues arise, seek professional help.

The owner of this vehicle clearly likes his wheels to not part with them and get some that fit and has made the wheels fit by any means necessary. An angle grinder and a few hours later this person has made them fit. However running the risk of popping a tire is high.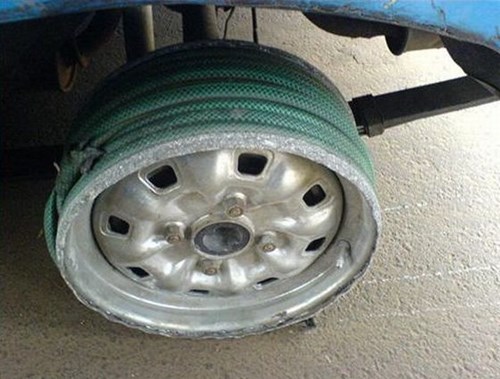 Sometimes it's hard to get big wheels to fit under wheel arches and to make them fit people need to opt for a thinner tyre. However finding a tyre thin enough to fit is quiet hard, so why not make your own? That's what the owner of this vehicle has gone and done. So if you have some spare garden hose, some impact adhesive, and a good few hours of playing around and getting this to fit, then this is something we don't advise doing.
Tags: 4x4, Alloys, diy, insurance, modified cars, Rolled Arches, Stance